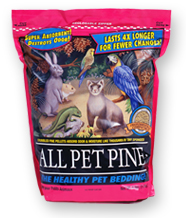 All Pet™ is one of the most unique animal beddings on the market today. Made from 100% pure kiln dried pine, All Pet naturally neutralizes odors with no harsh chemicals or fragrances. In a comparative study versus the nation´s leading bedding product, it even eliminated odors 17 times faster!

And with tiny pellets acting like thousands of tiny sponges, all moisture is absorbed, ammonia neutralized, and bacterial growth greatly inhibited.

The result? A cleaner, drier, healthier environment for your little pals.
You can find All Pet Pine™ at any of the following retailers:
Pet Food Experts
Pet Supermarket
Pet Supplies Plus
Super Dog Pet Food Co.
Southeast Pet
Central Pet
General Pet Supply